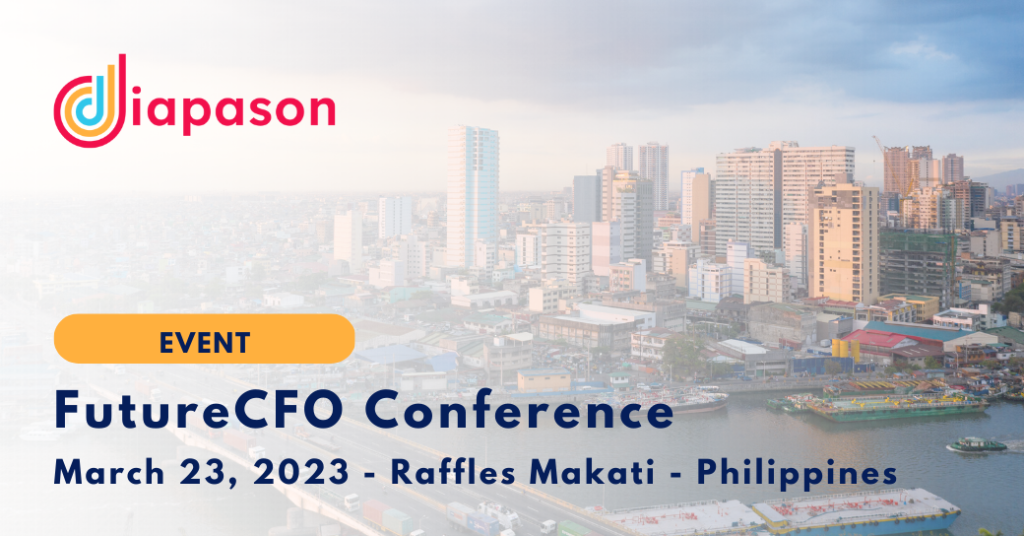 FutureCFO Conference 2023 – March 23, 2023 in Philippines
Forging Strategic Partnerships with Business
We look forward to seeing you on March 23, 2023 at the Raffles Makati, in Philippines.
Diapason invites you to the 3rd Annual FutureCFO Philippines Conference!
Themed "Forging Strategic Partnerships with Business" seeks to bring to the fore strategies, process transformation and technology innovations that aim to do just that – make finance, and the CFO, an even better strategic partner to business.
On March 23, 2023, the 3rd Annual FutureCFO Philippines Conference will convene over 120 senior finance professionals from various industries in the Philippines. This event will address the latest macroeconomic updates, business risks and opportunities, as well as CFO's top action plans to drive change and recover growth in the Philippines. This exclusive executive gathering by invitation will also discuss strategies to confront challenges facing the finance function post-digitalization, stay agile, and drive business forward amidst continuing uncertainty and new challenges.
We will bring together some of the leading minds in finance in the country to solve real-world business problems today and present use cases to answer critical challenges facing various finance functions, including managing margin pressures in an inflationary environment, making FP&A more predictive and agile, automating to drive down costs, narrowing the financial close and aiming to make it touchless, and closing the talent hole while managing the AI generation.
This is the first time Diapason is exhibiting at this event.
Join us and discover our treasury and risk management solutions !
Like and share, choose your favorite platform!