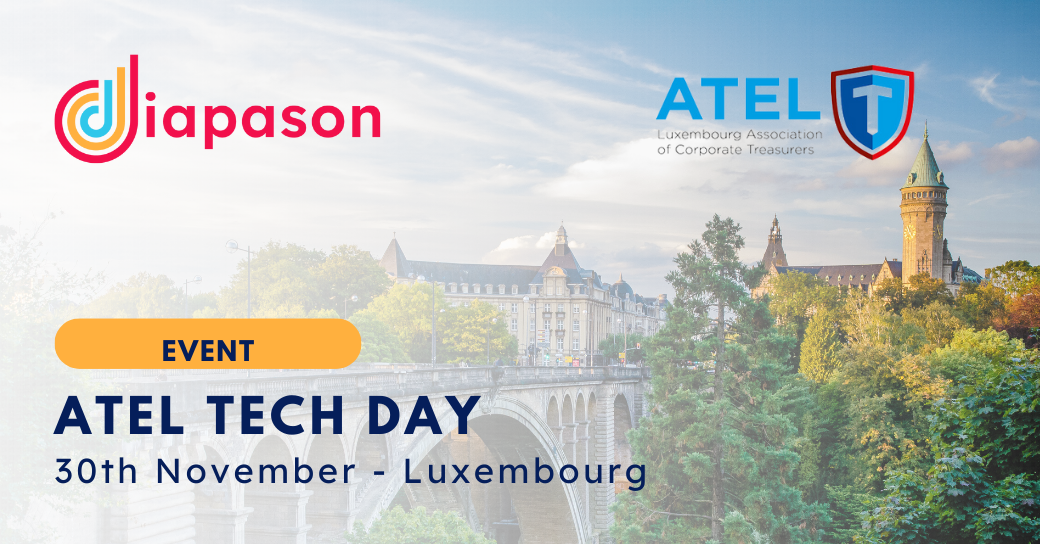 ATEL Tech Day
November 30th, 2023 in Luxembourg
The meeting place for Luxembourg's corporate treasurers
Meet the Diapason team at ATEL's Tech Day !
Luxembourg Association of Corporate Treasurers organizes the ATEL Tech Day, at the European Convention Center Luxembourg, a day to discover all the latest treasury technologies.
Diapason, partner Gold of the event, is pleased to present its TMS solution that meets the needs of financial departments in terms of digitalization.
Real conductor of the cash management, myDiapason solutions simplify the daily life of more than 10000 finance professionals allowing to :
Optimize cash management
Automate and secure payments
Fight against fraud,
Manage financial and credit risks
CONFERENCE 
Frédéric Saunier, CEO of Diapason, and Alexandre Sortais, Director of Professional Services at Diapason, will be leading a conference: "How to automate and secure  your FX hedging processes with Diapason"
During this presentation, the following topics will be discussed:
Cash and currency forecast modeling
Self-hedging processes
Lifecycle of hedging operations
Artificial Intelligence and Machine Learning in cash and currency forecasting
Like and share, choose your favorite platform!