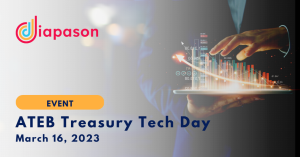 ATEB Treasury Tech Day – March 16, 2023 in Brussels
The meeting place for TMS Publishers and Fintechs
We look forward to seeing you on March 16, 2023 at the Sheraton Brussels Airport Hotel, in Brussels.
Diapason invites you to the second edition of the ATEB Treasury Tech Day!
This event is a unique opportunity to compare more than 20 treasury solutions among the most used in the treasury community, but also innovative tools developed by Fintechs. Whether you work for a medium or large company, you will leave this day with a complete vision of the existing treasury tools on the market.
The event also includes lectures on current technical trends and how to assess the need to modify or upgrade your current cash tools.
Do you want to discover our TMS solution and put your tool in tune?
Sign up!
Like and share, choose your favorite platform!